Home Page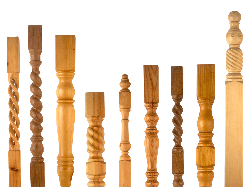 The Association was formed in 1946 to represent the interests of the industrial wood turners that were coming to terms with the many changes that were taking place in the industry at that time.
As you will see from our list of members our membership now includes a substantial number of the major wood turners in the country, covering the many facets of commercial wood turning activities, embracing industrial items such as furniture components, sporting equipment and tool handles. Our members employ a wide range of turning machines including Rotary and Fixed Knife Lathes, Copy and Copying Lathes. Many members offer a wide range of other machining and finishing operations to the turned components that they produce.
The Association has been involved in assisting the Health and Safety Executive on a number of occasions in formulating policies on a wide range of problems relating to wood turning machinery. We have gained acceptance by them of our special problems, and the guidelines, which have been published, reflect the points made by the Association.
We have also been involved in giving evidence to the European Working Group 8 on the safety of Rotary Lathe Tooling. It was important to convince them of the safety of our cutter equipment so that its use can be continued under European legislation. Exemption for Rotary Knife Tooling was gained against very hostile opposition from other European delegations. This work was vital if the wood turning industry in this country is to survive in its present form.
Our membership is solely made up of industrial trade wood turners who have the substance of their manufacturing facilities based in the United Kingdom. All applications for membership have to be approved by the other current members of the Association.
R. Pugh, former Secretary.